Allow me to introduce myself. My name is Jordana, I am 23 years old and I have a Stabilizer–Analyzer Behavior Style preference. I am going to rewind to pre-quarantine times, when many of us were more blissful and maybe just a little naive. 
Losing My Job
I had recently gotten a job with a major fashion retailer in San Francisco. It was my first adult job, really, since graduating college the previous spring and moving to the big city. It was exciting and I was overjoyed to be in this position. I was determined to climb up the fashion ladder and finally pursue my dreams. The office was fast-paced and invigorating with lots of room for growth. I worked with a wonderful group of (almost all) women where I finally felt a place of belonging. 
Three months into my job, COVID-19 hit. As for many others in March, this gut-wrenching panic overcame my days and nights. I didn't have any social distractions to keep my spirits lifted either. Every day less certain than the next, I awaited some assurance or update on my livelihood. 
About a month into shelter-in-place, I received notice that I would no longer be able to continue my work. I knew many were experiencing similar financial or professional setbacks. I thought: "What can you do though?" I took that night to throw myself a pity party, then woke up the next morning with fierce empathy. I was not alone. That's about all I knew. 
How was I going to insert myself back into this unstable society? And how could I do so in a way that supported others?
[Read "Being a Stabilizer and Community Nurse During a Pandemic"]
Being Introduced to Behavior Styles Helped
At the time, I wasn't aware I was a Stabilizer. I hadn't participated in the People Skills program or learned about the different Behavioral Styles yet. Despite my limited understanding of the Behavior Styles model, it is clear to me now that I have had a Stabilizer Behavior Style preference most of my life. Besides hating confrontation and under-developed relationships, a main focus of mine has been maintaining a low-pressure environment. In part, that means staying productive while not creating any hostility. This is where my secondary Analyzer Behavioral Style preference comes into play. 
During my prior job, I was able to feed my drive for efficiency. Working with online retail systems and inputting important data that would eventually result in the outcome of a garment requires extreme diligence. I thrived off getting things right and taking the time to do so. Without that work,  a question often haunts me during this time of unemployment: "How does one still feel efficient when you have no job, you're stuck inside, and we are facing arguably one of the greatest social justice moments since the Civil Rights Movement?" Everything I do in my own sphere just doesn't feel like enough. 
There's A LOT going on in the world. Which includes emotions of helplessness cycling through—an overwhelming amount. For my fellow Stabilizers, it's safe to say our minds are going crazy. I realized having a job gave me a sense of stability which, in return, reflected the patience and positivity I could then give out. Being stripped of that and navigating my way back to a more simplistic lifestyle, created a pathway to discover what is really important to me; which is keeping the harmony in myself and in my relationships. Granted, having nothing productive to focus on can drive you into a thought provoking spiral. Meaning, I question most things I do and get frustrated when my efficiency is lost. So, keeping the harmony is a lot easier said than done. 
[Read "A View of COVID-19 and WFH from a Controller"]
Things I Can Control, Things I Can Change
After losing my job, the days felt even more blurred together. I had to start jotting down what I could improve and focus on just to keep me sane. This helped take my mind off the daunting quest for work when it feels no one is hiring. I took this opportunity to take a step back from the chaos and explore things that might have been missing pre-quarantine that I wasn't necessarily listening to because of, well, life. Relationships for instance. Stabilizers prioritize a quality relationship. I realized I hadn't talked to some of my family and friends in way too long. I might have even lost a few solid relationships from my hometown. Not for any particular reason. Life just moves so fast that it's hard sometimes to prioritize childhood best friends and distant cousins. But, when life suddenly forces you to literally stop in your tracks, you begin to exhale and yearn for some of those distant relationships.  And I figured, what better time to get your grandma on Zoom than now? 
After some time of constantly clicking "apply" on every job I found on LinkedIn, I also started personally connecting with businesses and their employees online. Stabilizers typically direct their attention towards the relational side of opportunities because trust is an essential part in our work. I find that's valuable because at least I am able to broaden my network and hopefully create some solid, trustworthy relations. I'd rather apply to ten really awesome jobs that require me to complete a lengthy application, than 50 jobs I know nothing about. In order to build trust, I believe gathering as much information about a company or role as possible can increase your chances of furthering connections and opportunities.
It took me a while to adapt to the virtual world—solely relying on my computer or phone to communicate—but I recognized I could be utilizing my time better. I listened in on webinars, attended free digital events, broadened my knowledge of different communities and networks I was interested in, picked up a book (something I hadn't done since college), and listened to the needs of the people and the world around me. I decided to do better. And expect better. I think as individuals we are constantly evolving and changing. We are not just our Behavior Style. There are many other unique, important things about us and it is our duty to evolve and progress alongside society. 
[Read "Here's the Fundamental Difference Between Behavior and Personality"]
Finding Some Silver Linings in This Moment
Like most people during this time, I was forced to pivot. Not professionally but personally. I can clearly say  that it is extremely difficult to take on the job of looking within and reflecting on yourself. It's vulnerable, and sometimes uncomfortable. But, it's necessary. Being the stabilizing optimist that I am, I've found this pandemic to be an eye-opening experience that is providing many unknowns. I am completely aware most people would not describe these times as positive. But it is a privilege to be able to attend webinars, voice opinions, and learn new concepts. These times are unprecedented, and messy, and a little uncomfortable, but that's what makes them so valuable. I challenge you to find that teeny, tiny sliver of light that offers another perspective. A perspective that may calm anxiety, or intercept negative thoughts and actions. While claiming your own positivity, maybe new goals will arise and you'll find personal growth in times of uncertainty. 
This is only my story. I tell this to offer some relatable content in terms of "you are not alone." I still don't have a job, we are still in a pandemic, and severe racial injustices need to be addressed. Since I cannot control the minds of others, communicating my own thoughts in hopes of forming some sort of solidarity is something I can do. I strongly believe that doing things out of your comfort zone creates for a better understanding of individuals and communities around you. Whether that be reading outside of your normal news bubble, or listening to different perspectives. Maybe from someone with a different career, racial, or religious background. But, in the midst of it all, explore the compassion in yourself, and acknowledge the joy you have or could possibly bring to others. All of us, including our Stabilizer, Controller, Analyzer, and Persuader preferences, are in this together.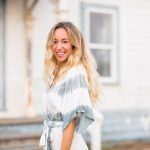 Jordana holds a bachelor's degree in Humanities and Communications from Cal State University Monterey Bay, with a concentration in journalism. She has worked in the fashion industry for a few major retailers.
She currently lives in San Francisco.