"I've been an observer of human behavior for more than 15 years as a stand-up comedian," notes Justin Rupple. "And what I have found is that the model put forth by Effectiveness Institute really helps me to see the world much more clearly." 
Rupple is a voice actor and comedian with recent film credits in Spider-Man: Homecoming (2017) and How to Train Your Dragon: Hidden World (2019). Multi-talented, he is now partnering with Effectiveness Institute—as Justineffective—to champion for what he argues can help any relationship. "I believe once everybody starts to get a vision of how to interact with these Behavior Styles, when you see them and how to spot them, the world becomes a lot easier to quantify. And, it's very funny." 
Watch Justineffective with His Many Personas
Justineffective has already appeared in several videos highlighting the different ways in which Behavior Styles approach different routine activities, including:
He has also developed a large library of celebrity impersonations, which he employs to showcase celebrity variations of the Behavior Styles—including celebrity Behavior Styles Facetiming with their assistants.
It's About Learning Through Laughter
While humorous, Effectiveness Institute President George Myers and Justin Rupple are both quick to point out that Justineffective is not meant to stereotype the Behavior Styles. "They're out there. There's humor in them but if we can see them and know what to do with those different preferences we see in people, we can become a lot more effective at working together and in building positive relationships."
George Myers joined Rupple for a brief discussion about his new involvement with the Institute. Watch the full interview below.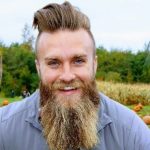 Jeffrey serves as Communications and Marketing Director at Effectiveness Institute. He is also Editor in Chief of Erraticus, an online publication focused on human flourishing.
He is a former mental health professional and educator living in Cascadia.