As a child, we took an annual road trip between Southern California and Utah to visit my mom's parents. We crammed our large family into a 3-row Dodge van. During these balmy and cramped drives, we'd fill the time listening to the Beach Boys, playing "I spy" and other passenger games. I have fond memories guessing what temperature would show on the "World's Largest Thermometer" driving through Baker, California and wrestling over whose turn it was to lay in the back row of the van which could flatten out into a bed. Little did I know then that these drives planted the seeds for my interest in emotional intelligence, team leadership, and navigating relationships.
To Better Navigate the Social World
My mom introduced us to Taylor Hartman's Color Code (1989), piquing my curiosity with the notion that everybody fits into a handful of personality types. The book included a test you could take, which we naturally argued over who got to take first. My results revealed that I was purposeful, thrived on intimate relationships, and analytical—although I could be very judgemental, self-critical, and overly idealistic. (Most of these were new words to my pre-adolescent self.) I loved that I had a clearer picture of who I was, but more important than that, I could better understand why my siblings were so frustrating. I began to appreciate that although we were each so different, I could rely on a framework to better navigate the social world I was beginning to uncover.
In the decades since, I've explored numerous books and programs—including Effectiveness Institute's Teams That Work (2015) and other offerings—that articulate sound principles and ideas for helping us to, put simply, relate to one another. While these materials are grounded in the business and organizational behavior space, I was always attuned to how their mental models informed dynamics within our personal relationships, communities, and society.
Dramatic life events forced my already inquisitive mind to further grapple with these topics.
"While these materials are grounded in the business and organizational behavior space, I was always attuned to how their mental models informed dynamics within our personal relationships, communities, and society."
When my dad died in my youth, I wondered why my mom approached the tragedy with such a matter-of-fact and pragmatic mentality while others—myself included—couldn't seem to keep from talking about it, revisiting the emotional consequences of it for years to come. She was a mother with a large brood and felt that she had to act strategically and practically. My sentimental self struggled to understand why she wasn't expressing her grief, communicating to us about her loss or the uncertainty of her future.
As an early teen, I was frustrated by the unemotional way in which she seemed to remarry a year after my dad's death. It was only in later learning about emotional intelligence and the varied ways in which we orient in the world that I was able to appreciate the route she took. Her action-oriented approach enabled her to preserve her family and establish a new normal for them. Alternatively, my eagerness to share my own struggle with this tragedy empowered me to build the kind of intimate connections I needed. Neither path was necessarily better than the other. We each had different motivations, needs, strengths, and temperaments.
Now, what does this have to do with team effectiveness and workplace culture?
Effectiveness Institute in the Workplace and Beyond
The tools and principles we utilize at Effectiveness Institute do not exist in a silo. Yes, absolutely we are focused on strengthening the emotional intelligence and effectiveness of teams and organizations, but the changes and transformations people experience through our trainings and programs also have a part to play in our families and communities. With this blog, we hope to center the conversation about what happens at each level of society around the same ideas and fundamentals that have benefited our clients in the workplace for nearly 40 years.
Effectiveness Institute began as a measure to help kids in the more impoverished schools of Seattle develop the social-emotional tools necessary to overcome unique challenges they faced in their neighborhoods and in their city. Later, we grew into the corporate and business landscape, empowering organizations globally. Although we're maintaining this focus, we have recently returned to our roots, once again enriching the lives of students and educational institutions. And now, we're thrilled to further explore how the same principles and frameworks apply to other aspects of society—or wherever you have a chance to strengthen a connection with others (and yourself).
Effectiveness Institute's blog intends to offer you one more way to engage with ideas (and concrete tools) we find exceptionally beneficial.
We will feature guest contributors, including some from our facilitators, clients, and readers such as yourself. We want to know about the successes and challenges the wider Effectiveness Institute community is having, and hope you'll share your stories with us.
When I began learning about behavior and personality differences as a kid, I had little sense I would eventually turn that juvenile curiosity into a profession or become involved with an organization as impactful as this one. So, regardless of which social level holds your attention—family, community, team, or organization—Effectiveness Institute hopes we'll provide a place for you to further delve into the foundations that inform our highly-acclaimed programs (and beyond).
Let us know what problems you're trying to solve and we'll see if we can't solve them together.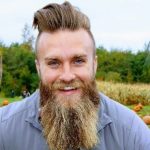 Jeffrey serves as Communications and Marketing Director at Effectiveness Institute. He is also Editor in Chief of Erraticus, an online publication focused on human flourishing.
He is a former mental health professional and educator living in Cascadia.